After nearly bailing on the idea, I went to Greenwich Village to catch the huge annual Halloween parade, thanks to the urging of my old buddies Jared Osborn and Steve Hughes. I hadn't been to the big parade since 1991, and that was an unpleasant experience thanks to me being stupid enough to actually stand on the parade route, and the crushing outdoor claustrophobia that inevitably comes with the literally tens of thousands of spectators and participants. To give you an idea of what I mean, the morning news stated that last night's crowd was somewhere in the two million range.
What sold me on going this time was Jared's brilliant idea of using the parade and the surrounding neighborhoods full of costumed loonies as a photo safari for the purpose of getting away with snapping endless amounts of shots of hot chicks in skimpy outfits. Now I'm the first to admit that I'm a feminist, but I'm also a guy, godammit, and since the Halloween season gives women an excuse to shed their inhibitions (to say nothing of good taste) and dress as scandalously as possible, I happily cast aside propriety and wallow in the shameless utopia of girlwatching. Oh, and the other costumes are fun too!
As I once more donned my garb as Tim the Enchanter and headed out onto the Park Slope streets, I passed the home of a local artist who frequently makes silkscreened signs that tend to piss off the neighbors, and was pleased to see this charming display:
I like to think of it as a harbinger of fun for the evening.
A half hour later I met Jared and Hughes at our chosen rendezvous point, and the expedition got underway.
There were vendors on every block, ready to provide horns for those without costumes as long as they forked over five five bucks, to say nothing of the stores that were open to cater to your last minute disguise needs.
Working our way west, we began to see costumed partiers all over the place, many drunk as hell despite the early hour, but all in good spirits.
True to Jared's prediction, hot women were EVERYWHERE, and I have to agree with Jared that the outrageous level of eye candy was way more extreme than it was when we frequented the parade fifteen or more years ago. Our first hotness of the night: the delectable Devil Nurse!
And how's this for the great dichotomy?
Let's hear it for the Dork!
One of the legion of cute Japanese girls who were on the rampage.
And for the ladies, here's a proud Egyptian brutha.
And for some reason, most likely because of the recent movie, there were Superman outfits in abundance, sported by both men and women, and even dogs.
This guy was my favorite of the Kryptonian impersonators thanks to the camera's red eye effect giving him impromptu heat vision.
But this is Manhattan after all, and no super-hero says New York City like your friendly neighborhood Spider-Man.
Apparently Perrier mineral water was one of the parade's sponsors, and they had holiday-appropriate staffers and logo at the ready.
I really liked the blue hair on this woman, and Japanese Pocahontas wasn't so bad either.
First comics geek outfit of the night: V from V FOR VENDETTA.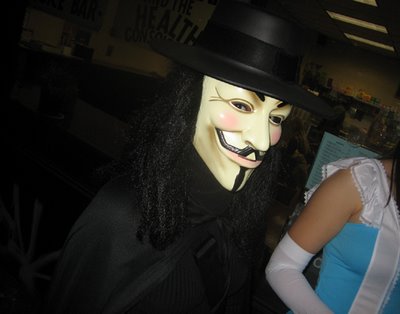 And what's not to like about the surreality of this woman hailing a cab?
A perennial classic, the Invisible Man represented with a comely pirate lass on his arm.
This tourist followed me for blocks, all the while scratching my back with his inflato-claw. Was that some kind of mating ritual in his native land?
And what's up with this? Alice and a Yeti? Who knows?
And I hate to break it to this dude, but just because replica lightsabers totally kick ass these days doesn't mean you can get away with just a lightsaber and no fucking costume!
As the crowd began to get thicker near the actual parade route, our safari began to veer further West, missing nothing, yet avoiding the dense throng.
I mean, just look at this shit!
But first, a pit stop at Papaya King for a couple of hot dogs and a papaya juice beverage that I swear tasted like it was made from salt water.
As the migration continued, we ran into the only werewolf that we saw all night.
Finally, we hit Christopher Street, and it was like being at the crossroads of the costumed universe.
Yep, we're on Christopher Street alright...
This sexy version of Little Orphan Annie actually recognized me because she used to waitress at the horrendously overpriced restaurant across the street from my apartment. Yowza!
Two Mexican wrestling heroes, one of whom insisted that he was "legal."
A cliche couples outfit, but at least they were into the parts.
Gotta love the Human Peep Show!
Here's me with a lovely geisha who was actually a Japanese expatriate. Easily the most elegant lady in the area. And, man, was she tiny!
Somebody please tell me exactly what the fuck a "Stachebot" is...
All I have to say about this one is that it looks like Dr. Wertham was right.
They should make a zany sitcom about these two. Just think about it: "The Pimp and the Pirate!" Hell, I'd watch that.
And this was the first time I ever saw the whole Scooby gang as opposed to just Velma, Daphne, or Shaggy. I guess Fred gets no love thanks to that douchey ascot...And for the record, I like the zaftig Velma from the barbecue joint on Friday night a whole lot more than this one.
The Incredibles, apparently trapped by some dastardly villain's rectal superglue.
We soon left Christopher Street and headed south, running into more seasonal revelers.
First, we ran into these two friendly Viking chicks.
Then the King showed up and "thanked me very much" for taking his picture.
Another variation on the good/evil thing. Yeah, I know I'm supposed to be a sorcerer, but she asked to pose with "Mister Devil," so what the hey?
This drunken reveler got in the way of a photo I was taking, but pirate cleavage is always welcome.
My vote for best truly ridiculous outfit goes to this guy.
He's El Chapulin Colorado ("the Red Grasshopper"), a mainstay on Mexican television, and the inspiration for "Bumblebee Man" on THE SIMPSONS. (see below)
Another timeless classic, namely an old school STAR TREK outfit worn by a chick.
The inevitable Dorothy, flanked by the Scarecrow and two random hotties.
Here's my attempt at a sneaky cleavage shot, taken under the pretense of wanting a shot of Toto, and it turns out that that's exactly what I got.
There's always a mad butcher at shindigs like this.
The other costume that was as common as Superman was the Ghostbusters. No bullshit, they were all over the place, presumably thanks to the proton pack equipment being easily available in inflatable versions. Anyway, here's two GB's with the Joker, decked out in his standard issue Arkham inmate togs.
Another inevitable Halloween sight, Pebbles Flintstone.
Check out Mister Zoot Suit! Classiest guy in the neighborhood.
Another treat for comics geeks, the Mighty Thor!
And what are the odds against running into Doctor Doom two seconds later? The guy in this costume was elated that I actually knew who he was supposed to be, especially since he had the mask off so he could eat a hot dog. Sorry, pal, but I'm a world-class geek, and the tunic with those big-assed fasteners was a dead giveaway.
Umgawa!
As previously stated, the Ghostbusters were out in full force today, but there was only one group that actually went the distance and built their own proton packs and guns from scratch. A 10 out of 10 for putting in the work!
I mean, talk about dedication!
Then we ran into the Satanic Pope, and he wanted to know if we could point him to some hard liquor.
As Jared and Hughes prepared to head off and meet up with some of Hughes' buddies, I hit the road back to Brooklyn and ran into the Devil himself on the way.
While transferring at Times Square, I ran into this pimpin' pumpkinhead dude.
All in all, a great Halloween! But as I waited for the train, some Church of Scientology assmunch took one look at my horned, "Satanic" outfit and handed me this:
Thanks a lot...DOUCHEBAG!!!
See ya again next year for more Halloween silliness!